My husband's groom's cake! It was Stephen King's Dark tower themed with a key, a rose, & unfound door and the beam guardians hung around the base. The baker even included the beams! It was perfect and delicious!

This peacock was wandering around the Castle of St. Peter in Turkey. I couldn't get enough of its feathers! Photos enhanced in Photoshop. 
Game of Thrones graphic, maybe I'll make it into a button or something. Done in Adobe Illustrator. 
I've been greatly enjoying the last book of Stephen King's Dark Tower series so I was inspired to design something based off that. I also just got Adobe Illustrator and have been trying it out. This is a combination of Illustrator and Photoshop. 
My college roommate had this really cute french bulletin board that I've always admired. I looked into buying one for myself but they were always too pricey or not my style. So I decided to do it myself! It was pretty easy so I thought I'd share for anyone else who wants a useful, personalized board on a budget. 
Final product:
The materials:
Cork bulletin board (I used a 20x16) - $10 @ Michaels
1 yd of fabric - $6 @ Jo-ann's. There are cheaper and equally cute patterns though and you can always go online for a 40% coupon.
Ribbon - $2 @ Jo-ann's. I got 2 colors but can totally be done with 1. 
Colorful Tacks - $3 @ Michaels.
Frame - $5 @ Thrift store. Optional but that was something I really wanted.
Butterfly embellishments - $5 @ Jo-ann's. Also totally optional but I used them to make cute tacks as well as bring some life to the frame. 
So total costs can range from $21 - $31 and can probably go lower or higher depending on how thrifty you are. :) 
Other things you need:
Scissors
Stapler
Ruler
Glue (optional)
Paint (optional)
First off, center the pattern over the board and cut the fabric so that it is 3" longer than the bulletin board on each side (26"x22" for a 20"x16" board). 
Wrap the fabric around the board till it is tight and pin it. I treated the corners like wrapping a gift: I folded the edge in on itself then folded it over.
Once you are satisfied with the placement and tightness of the fabric, start stapling the ends of the fabric to the back of the board. 

Now you start adding the ribbon. Cut strips and place them across the front diagonally and staple the ends to the back. Place them all evenly going one direction. 

When you place the opposite direction, weave the ribbon in and out of those already placed. You can trim the ends of the ribbon but its all on the back so it doesn't have to be too neat. 
The ribbon should also be tight around the board. Next place your tacks at each intersection of ribbon. Try to keep the ribbon tight and maintain the original path - if not placed correctly the ribbon will zigzag.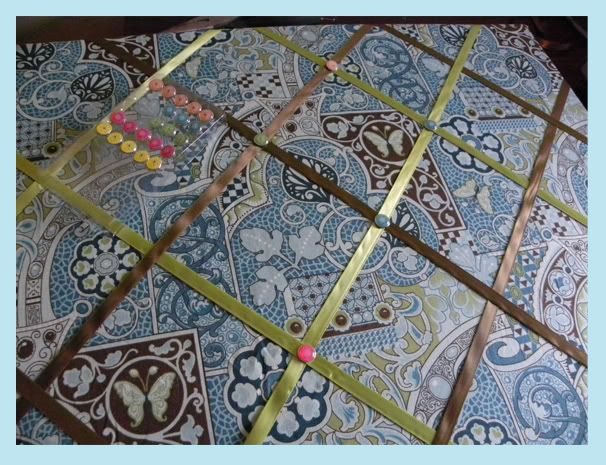 If you want, you can stop here and have a perfectly lovely french bulletin board!
I just loved the idea of the frame so I took that extra step. I originally found this print and frame at a thrift store. Take it apart. My frame had staples holding the print in so I pried them up with a screw driver and used pliers to pull them out.
Set aside the print and glass. You can save those for a future craft project or just throw them away. The wood of the frame wasn't quite the shade of brown to match my fabric so I picked up a tube of "Milk Chocolate" acrylic wood paint and went to work.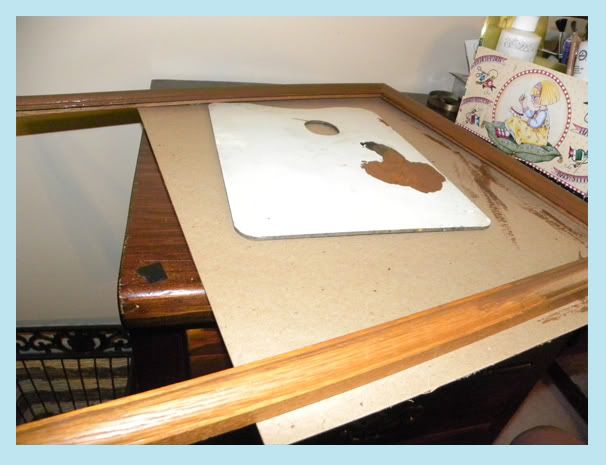 Once you have your frame, take some craft glue or wood glue and coat the inside of the frame. Wedge the bulletin board into the frame. Its a pretty tight fit so the glue is just for extra security. My board is about twice as thick as the frame so when I hang it, it will be directly from the bulletin board itself. The board from Michaels has holes for hanging which I covered up when I wrapped the fabric around. I sliced the fabric there so I can still use those.
And ta da! You again, have a perfectly good and unique french bulletin board!
The embellishments were actually from the scrap booking section. I attached them to the frame and some tacks for some of my own unique flavor. Hope you enjoy your bulletin board!
Took a trip to Luray Caverns. Here are some of my more interesting photos. 
Peacock inspired bead pendant. 
Trying my hand at portrait sketching. I used a photo of Nathan Fillion as Mal from Firefly.